NEWS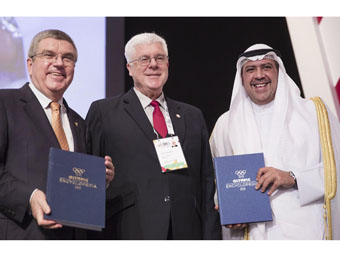 OLYMPIC ENCYCLOPEDIA BY LATVIA NOC
The first two volumes of the Olympic Encyclopaedia, a work expected to total 12 volumes in all, were completed by the Latvian Olympic Committee in late 2016.
The result of more than 50 years of research by a Latvian team led by Olympic historian Genadijs Macirevs, once completed the Olympic Encyclopaedia will contain some 120 years of unique experience and information on the Olympic world for future generations.
The IOC Olympic Studies Centre, more than 120 NOCs, the archives of the Olympic Cities, and a vast number of other persons and institutions have assisted the NOC of Latvia's efforts, providing information. The European Olympic Committees contributed to financing the work.
Latvian NOC President Aldons Vrublevskis presented copies of the opus to IOC President Bach and ANOC President Sheik Al Sabah during the ANOC General Assembly in Doha last November.
With over 140 thousands articles, the Olympic Encyclopaedia includes information on a vast range of topics, including IOC Session decisions, biographies and information on 130,000 athletes, NOCs, IF Presidents, and so on, much of it never published before. Interested parties can subscribe to the full Olympic Encyclopaedia contacting  lok@olimpiade.lv